We Clean Your Home So You Don't Have To!
Trust Busy Bee Cleaning Company for Your House Cleaning Needs in Pennsylvania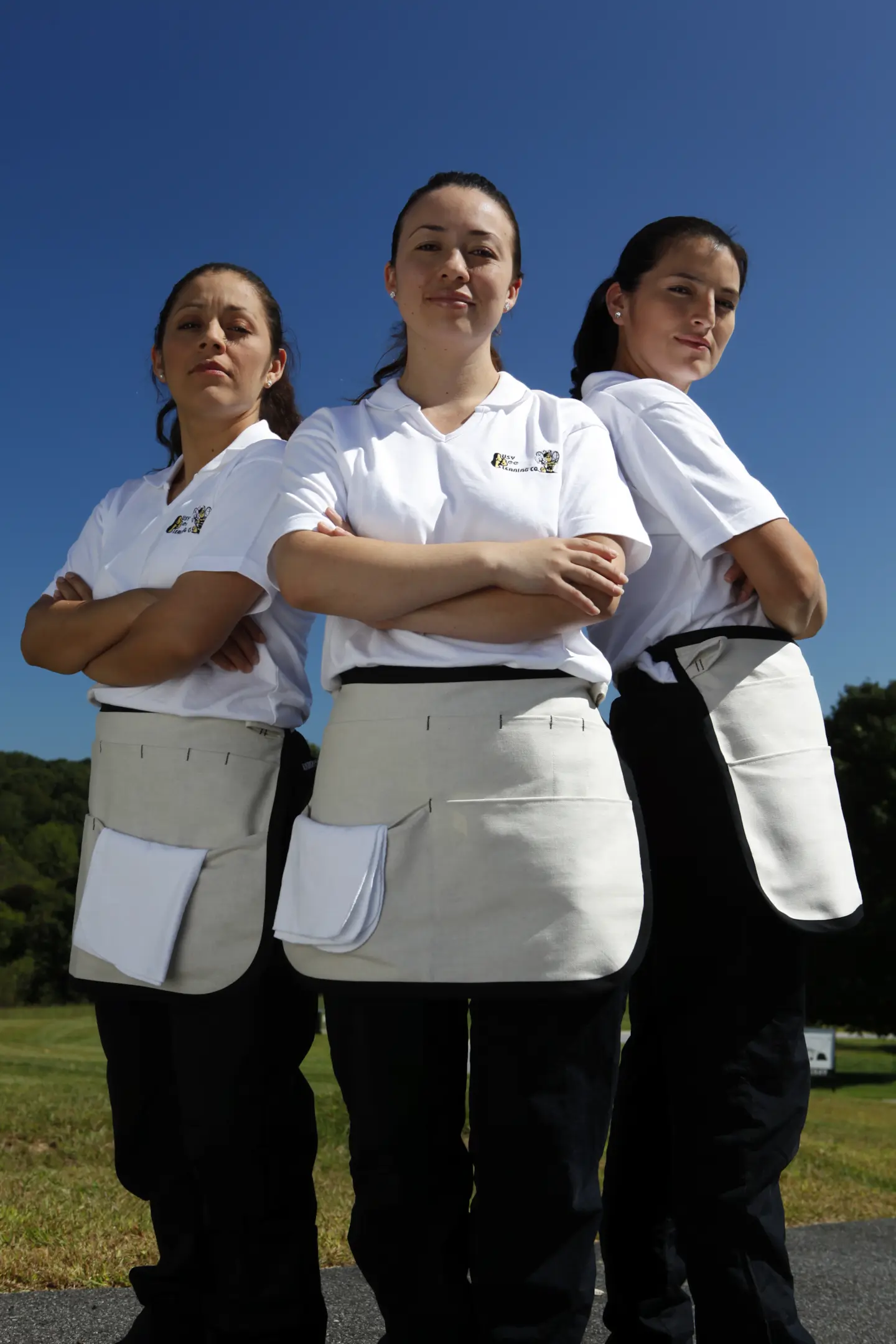 Does this scenario sound familiar? You've been driving for over an hour in heavy traffic on your route back from work. When you pull into the driveway, all you can think about is dropping your bags at the door, begrudgingly climbing two sets of stairs, and collapsing in a pile of soft blankets to drift off into sleep for the rest of the evening. But when you open the door, all you see is a mess that should probably be cleaned tonight.
Get Help Cleaning Your Home!
For many people, the state of their household varies according to how busy they've been that week. The mandatory tasks take priority. Some days, you'll manage to get a load or two of laundry done, and other days, you'll barely have enough time to put your dishes in the dishwasher.
If you're having a difficult time keeping up with cleaning your house, you aren't alone. Plenty of hardworking residents rely on house cleaning companies like us to maintain a relaxing environment to return home to at the end of a long day.
As the #1 house cleaning company in the local area, we offer our services in:
Our Residential Cleaning Services Reach:
Kennett Square, PA
Glen Mills, PA
West Chester, PA
Wayne, PA
Villanova, PA
Newtown Square, PA
Malvern, PA
Garnet Valley, PA
Exton, PA
Downingtown, PA
Chester Springs, PA
And other local areas!
Busy Bee Cleaning Company: The Best West Chester Home Cleaning Service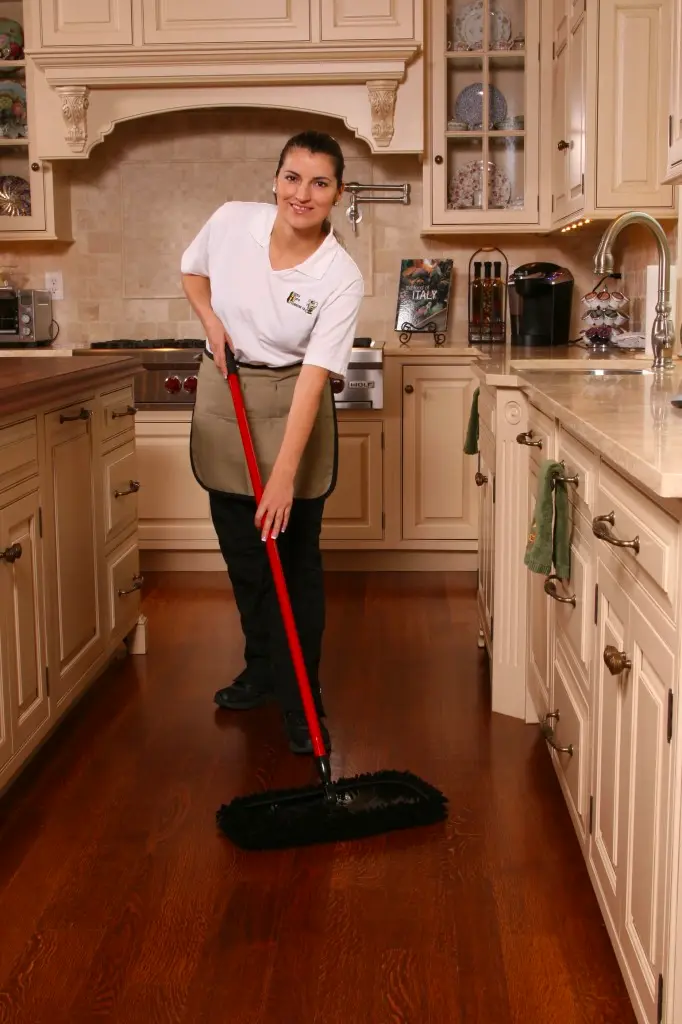 Nowadays, people are busier than they have ever been, and trying to balance everything from your work and social life to your family time and everything in between, can be incredibly difficult. With so much going on and so many places to be, it is nearly impossible to find time for yourself, much less to keep up with all those pesky household chores. 
We do not blame you for not wanting to spend your free time cleaning your home, and with Busy Bee Cleaning Company, you do not have to. Our amazing house cleaning services make it easy for West Chester residents to get their homes cleaned without spending all the time and effort needed to do it themselves. 
Everyone deserves the luxury of coming home to a clean, tidy, and comfortable home, and here at Busy Bee Cleaning Company, we are dedicated to giving that luxury to as many people as we can. So, if your West Chester home is not quite as clean as you would like it to be, there is only one thing to do, and that is to call Busy Bee Cleaning Company.
Why There is No House Cleaning Service Better Than Busy Bee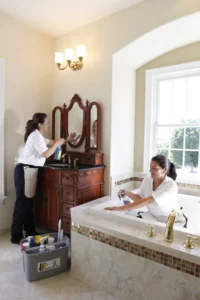 When it comes to offering the top house cleaning services in West Chester, PA there is really no competition because our professional house cleaning specialists are the best in the business.
Every single Busy Bee house cleaner goes through our Busy Bee University training course, which consists of hours of in-class and onsite training. During their training, they learn how to use the best equipment and the latest cleaning techniques to ensure that they know the best way to clean every type of surface and every corner of a home. 
But training does not stop when they graduate from their initial training course. Busy Bee house cleaning specialists never stop learning and are always receiving updated training to make sure they are on top of all the latest cleaning methods and trends. 
All of this specialized training allows our team to provide a level of high-quality cleaning service that other house cleaning companies simply cannot come close to competing with, but our superior cleaners are the only reason to choose Busy Bee Cleaning Company.
We also offer the most flexible and convenient scheduling in the region, and that is not to mention that you will never have to buy your own cleaning supplies again. So, if you are looking for the best house cleaning service in West Chester, look no further than Busy Bee Cleaning Company.
Our Amazing House Cleaning Services
Every home is different, and every customer has different cleaning needs, but we offer a wide variety of cleaning services that ensure you will be able to get exactly what you are looking for. 
From convenient routine cleaning that can keep your house clean all year round to deep house cleaning that can turn even the dirtiest home into a pristine and sparkling paradise, we will not stop until we not only meet but exceed your cleaning expectations.
Routine House Cleaning Services
Our routine house cleaning services are for people who do not want to worry about keeping their home clean by themselves. When you choose Busy Bee, you can trust that you will get a team of highly trained house cleaners who are committed to keeping your home spotless so you can enjoy the tidy and comfortable living space that you deserve.
We will work with you to find out your specific cleaning needs and then schedule a convenient time to come to your home so that we are never in your way. Our routine cleaning services typically include the following:
Kitchen Cleaning
Cleaning and sanitizing stove tops, countertops and sinks

Spot cleaning cabinet doors

Dusting all accessible surfaces and furniture

Cleaning microwaves and other appliance exteriors and surfaces

Cleaning underneath and behind microwaves and other small appliances

Mopping and vacuuming floors

Emptying trash cans
Bathroom Cleaning
Cleaning and sanitizing countertops, sinks, showers, bathtubs, toilets, and floors

Cleaning and shining chrome fixtures 

Cleaning mirrors and cabinet doors

Dusting light fixtures, baseboards, and all other accessible surfaces

Emptying trash cans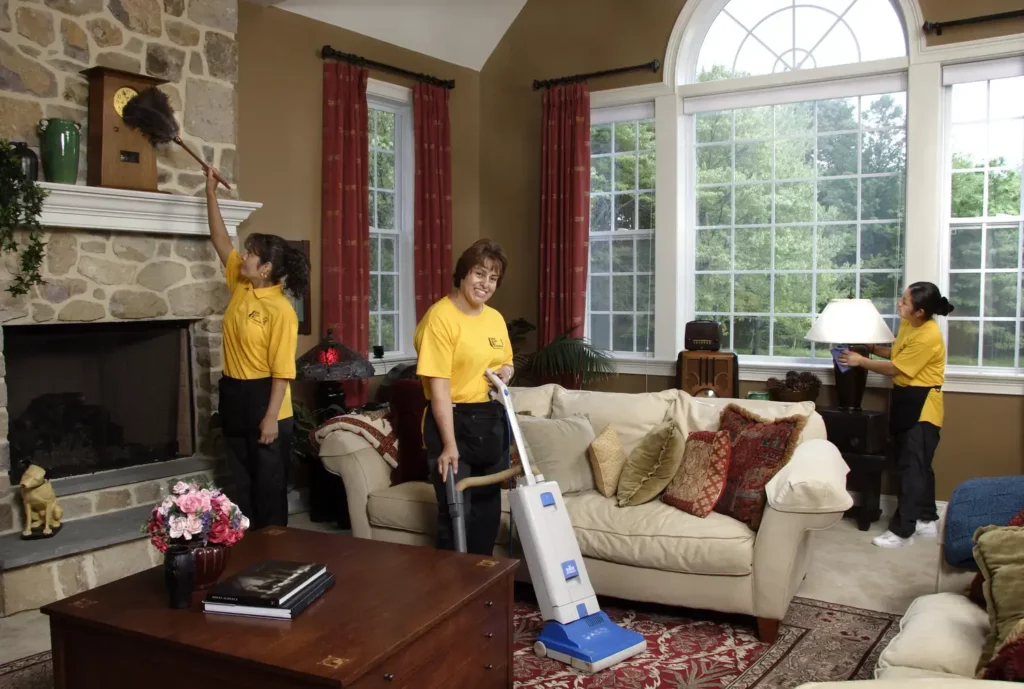 Cleaning All Other Living Spaces
Dusting window sills, baseboards, ceiling fans (height restrictions may apply), and all other accessible surfaces

Removing cobwebs

Vacuuming all accessible floors and stairs 

Cleaning sliding glass doors

Dusting, mopping, and spot-cleaning hardwood floors

Emptying trash cans

Dusting blinds
Deep Cleaning Services
If your home has not been cleaned in a while, or you just want to ensure that every inch of your home is as clean as can be, our deep cleaning services are just what you are looking for. 
Our deep cleaning services typically consist of much more labor-intensive cleaning tasks that require more time and energy and do not necessarily need to be done every other week. Many of these cleaning services also generally require specialized training and more advanced equipment and cleaning products to be carried out successfully.
While these services are usually highly customized to meet the exact preferences of each customer, they generally include things like:
Washing baseboards, doors, and other woodwork

Cleaning small light fixtures

Polishing granite countertops

Interior refrigerator cleaning

Oven cleaning

Carpet cleaning

Cleaning kitchen cabinet interiors and exteriors

Vacuuming drapes and lampshades

Cleaning and conditioning furniture

Window washing
Contact Busy Bee Cleaning Company Today!
Are you sick of dealing with your dirty home, or do you simply have some questions about our amazing cleaning services? Then give us a call. We are always here to answer all your questions and will be happy to tell you more about what we can do for you and your home. We can even offer you a free estimate so you know exactly how much our services will cost ahead of time. So do not put up with anything less than a perfectly spotless home. Call Busy Bee Cleaning Company and start your journey towards a pristine and tidy home today!
Rely on a Trusted House Cleaning Company
We all get overwhelmed sometimes, and the unpredictability of life can be stressful enough without having to spend your valuable spare time on arduous tasks like dusting and vacuuming. Professors or bosses breathing down your neck are enough of a headache, and we understand that your home should be a space unfettered from clutter and dirt so that you can enjoy your weekends and holidays in peace.
With a full-time job or school (and sometimes even both), it can be nearly impossible to get enough rest as it is, let alone with the added pressure of keeping your home clean. Don't wait until you burn out — trust Busy Bee Cleaning Company's house cleaning services to take that burden off of your shoulders today.
Why Choose Busy Bee?
At Busy Bee Cleaning Company, we have been performing cleaning services since 1993. We are an award-winning house cleaning company that has garnered a reputation for our detailed and efficient work. Our clients can attest to the fact that we are always professional. We will never invade your privacy or disrupt you with music or chatter. We respect the homes and properties of our customers and will always show up on time, do our job and leave your house so clean that it shines.
Our Residential Cleaning Services Reach:
Chester Springs, PA
Downingtown, PA
Exton, PA
Garnet Valley, PA
Malvern, PA
Newtown Square, PA
Villanova, PA
Wayne, PA
West Chester, PA
Glen Mills, PA
Kennett Square, PA
We offer online estimates, so you will know exactly how much it will cost for our house cleaners to do the initial cleaning. We have deep cleaning services available on request, which you can add on when filling out the quote request form. We can have your quote emailed to you, or we can call you if it is easier.
For an in-depth description of the residential cleaning services that Busy Bee Cleaning Company has to offer, you can browse our website. To schedule a cleaning, or if you have any questions, give our house cleaners a call today.

REVIEWS
First experience with them and extremely satisfied with their service.
Very efficient and friendly service .
Tearson Morrison
2023-10-23
Great team!
We've used Busy Bee for years now. They are prompt, efficient, and responsive. The service is pricey, but they use all of their own equipment and supplies.
Excellent quality. Friendly staff. Efficient abd imely.
Highly recommend Busy Bee! They are my trusted cleaning service now in the second decade. My loved one needs my support so I can count on Busy Bee to support me. Ladies consistently deliver careful thorough service & any issues/concerns quickly resolved.
I have used Busy Bee Cleaning Company to clean my house for many years. They are reliable, provide good value for their service, and communicate well with clients. I wholeheartedly recommend their service.
I have been very pleased with Busy Bee. They are punctual, and if they are running late, I receive a call or text in advance. The house is very clean when I return and they put things back where they found them! They provide their own equipment, which actually makes them less expensive than other services I've used where I've needed to provide everything myself. I would definitely recommend Busy Bee.
The team is meticulous and thorough, and they responded immediately to a touch up request. Highly recommended, other than monthly cost is on the pricey side
Busy Bee Cleaning Company: House Cleaning Services FAQ
Are you interested in getting your house cleaned by the professionals at Busy Bee Cleaning Company but still have questions about our services? Well, we have compiled a list of answers to some of the most frequently asked questions that we get right here.