Give the Gift of a Clean Home with
House Cleaning Gift Cards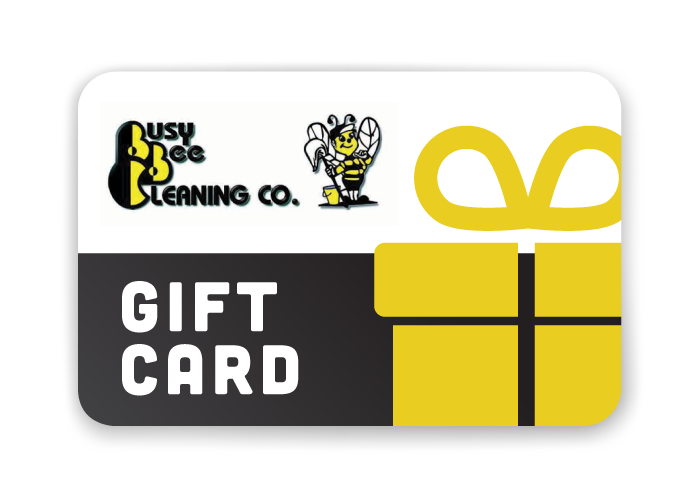 BUY NOW
We all know someone who can use a helping hand with their household chores. Keeping a house clean is a full-time job by itself, meaning that very few people have the time and energy for dusting, mopping, vacuuming, cleaning bathrooms, and the other tedious, yet essential, tasks that keep a house livable.
That's what makes a home cleaning services gift card such a valuable item! House cleaning gift cards from Busy Bee Cleaning Co. make perfect gifts for family, friends, co-workers and employees! A gift certificate for house cleaning can take the burden of household chores off of someone's shoulders. There's no better way to show someone how much you value them than by giving them a house cleaning services gift card because it results in fewer chores and less work for them to worry about.
House cleaning gift cards are ideal for practically any occasion! 
Give a house cleaning gift card for Mother's Day!
There are a lot of demanding jobs out there, but none are more exhausting than being a mother. Giving a Busy Bee Cleaning gift card as a Mother's Day present gives the mom in your life a chance to relax and let someone else do the heavy lifting for a change. Our deep cleaning services cover some of our offerings not available with our standard residential cleaning services, including:
Woodwork handwashing
Vacuuming carpets and lighting fixtures
Oven cleaning
Refrigerator cleaning

And more!
Give a gift card as a baby shower gift!
After the birth of a child, parents have a lot more to worry about, and a lot more to get done as part of their daily routine. You can give new parents more time to spend with the newest addition to their family by giving a Busy Bee gift card at the next baby shower you attend.
There's no better birthday gift card idea.
Gift cards for house cleaning are an ideal choice when you don't exactly know what someone wants for their birthday because more free time and less stress are things that everyone can use and appreciate. That's why a Busy Bee Cleaning gift card is the perfect birthday idea! It'll make someone's life a whole lot easier as they turn a year older.
Gift certificates make great Christmas presents.
Sometimes, good things come in small packages, especially when you leave one of our gift certificates under your Christmas tree. It might not be the biggest present they open, but it might be just what they need!
Giving a gift certificate for house cleaning will bring a smile to anyone's face, and will also save you a lot of hassle! Instead of waiting for hours in line at the nearest department store or browsing for hours online for the perfect item, ordering gift cards for house cleaning services from Busy Bee Cleaning Co. is quick and easy — making them the perfect last-minute gift. You can receive your home cleaning services gift card by mail, or you can receive a house cleaning gift certificate online instantly!
Gift cards for house cleaning are also perfect gifts for anniversaries, housewarmings, Valentine's Day, and weddings. They're a great way to say "thank you" or "get well" and are also perfect to give at the office to show employee appreciation or as a retirement gift. But there's no rule that says it has to be a special occasion. You can buy one for yourself when you need a break. You deserve it!
After you have received your house cleaning gift certificate, contact our office to schedule service and discuss how much house cleaning your gift card will cover. And be sure to keep an eye out for any coupons we are offering as well!
Terms and Conditions of House Cleaning Gift Cards
Gift Certificates are non-refundable and have no cash value
We cannot honor requests for a cash refund for any unused portion of the gift certificate
Gift certificates cannot be combined with coupons and promotional discounts
Gift certificates cannot be replaced if lost or stolen
May decrease in value after one year due to inactivity in accordance with applicable laws and regulations