Let's face it. As important as it is to keep your home tidy and clean, no one wants to spend all their free time doing all the dirty work to get it done. With increasingly busy schedules, people have less free time than ever, and it can be hard to find the motivation to clean when all you want is to use that time to get some much-needed rest or spend time with family and friends.
Still, clutter can be stressful, and if you put off your cleaning chores for too long, you can easily end up in a situation where you are simply uncomfortable in your own home. That is where we come in. 
At Busy Bee Cleaning Company, we think that everyone deserves the luxury of coming back to a clean, tidy home at the end of a long day. So, our goal has always been to do our best to give that sense of comfort to as many people in the Malvern area as possible.
You should not have to settle for a dirty home just because you are too busy to clean it yourself, and with Busy Bee Cleaning Company on your side, you do not have to. So give us a call and start on your journey towards getting the clean house you deserve.   
What Sets Busy Bee Cleaning Company Apart From All The Rest
We take pride in being Malvern's favorite house cleaning service, but we did not get there by doing a lackluster cleaning job. With over 30 years of industry experience, we have spent the time getting to know our clients and what it takes to do an amazing job every time. 
A cleaning service is only as good as its house cleaners, and we have spent the better part of three decades investing in and creating our one-of-a-kind Busy Bee University training program that ensures every member of our amazing cleaning team is up to our own high standards.
As our professional cleaners go through Busy Bee University, they spend hours in class and on-site learning the skills they need to become confident, effective, and efficient house cleaning specialists. From learning the intricacies of properly cleaning different types of surfaces and materials to operating and using our modern industry-standard cleaning equipment and products, every single house cleaner comes out as one of the best in the business.
But our team does not stop learning when they graduate from Busy Bee University. We are constantly keeping up to date on the latest cleaning trends and techniques so that we are always prepared to provide a superior level of home cleaning that other cleaning and maid service companies just cannot compete with. 
This, along with our flexible scheduling and excellent customer service experience, creates a fantastic cleaning service that guarantees complete customer satisfaction every time. So, if you want a convenient and thorough cleaning service that you can trust to get the job done right, there is no better choice than Busy Bee Cleaning Company.
Our Malvern, PA House Cleaning Services
We offer a full range of home cleaning services that make it easy for Malvern, PA residents to get their house cleaned exactly how they want it. From regular routine cleaning that keeps homes clean on a regular basis to more intensive deep cleaning services, we can easily customize your cleaning experience to meet your specific cleaning needs. Here are our most popular services. 
Routine House Cleaning Services
Our routine cleaning service is our most popular offering and is designed to make your life as easy as possible by taking over all your routine cleaning duties. We will work with you to come up with a convenient day and time, either weekly or biweekly, to come to your home. Then, all you have to do is sit back and relax while we get your whole house clean.
Our routine cleaning services include all the essential cleaning tasks necessary to give you the pristine results you deserve. From mopping and vacuuming all the floors to dusting and disinfecting all accessible surfaces, we will make sure that all your bathrooms, kitchens, bedrooms, living rooms, and every other corner of your home are completely spotless.
When you choose Busy Bee Cleaning Company for routine residential cleaning, you can trust that our hard-working and detail-oriented team will do an excellent job every time.
Deep Cleaning Services
Are you looking for a bit more than our routine services? Whether your home has not been cleaned in a long time or you simply have something specific that you want to address, our deep cleaning services are here to help.
Our deep cleaning services generally include more labor-intensive and time-consuming cleaning tasks that require additional training and specialized equipment and cleaning products to get the job done. 
These services typically include cleaning tasks like polishing granite, vacuuming drapes and lampshades, window cleaning, carpet cleaning, washing baseboards, and other woodwork, and cleaning light fixtures, windows, furniture, kitchen cabinets, and appliances. However, chances are, if you need something cleaned that you do not see listed here, we can do that too.
No matter what your reasons for requiring these extra services, Busy Bee Cleaning Company is prepared to give your home the deep clean it needs exactly when it needs it.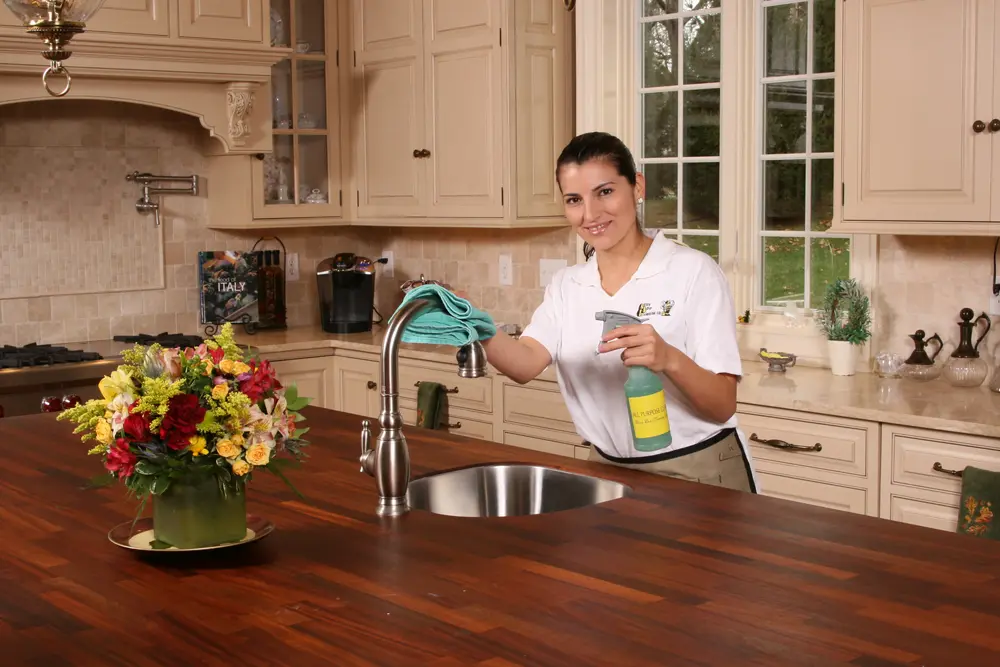 Contact Busy Bee Cleaning Company Today
Are you looking for a reliable cleaning service that you can trust to get the job done right? Then give us a call. We are always here and happy to discuss what we can do for you. We even offer all new customers free estimates so that they know exactly how much our excellent service will cost beforehand. So, do not let yourself be content with a home that is anything less than up to your cleanliness standards. Call Busy Bee Cleaning Company and get the spotless home you deserve today!