Are you having trouble keeping your home as clean as you would like? You are not alone. Nowadays, people are busier than they have ever been, and with so many things to do and places to be, it can be nearly impossible to find the time and energy needed to keep your home clean. But, that does not mean that you have to be content with your dirty home.
Busy Bee Cleaning Company offers convenient professional home cleaning services that make it easy for Glen Mills residents to get the clean, tidy, and comfortable home that they deserve without spending all their free time doing the dirty work themselves.
No one wants to come back to a messy home after a long day of work, and with our amazing house cleaning service, you will not have to. So, if you are looking for the best house cleaning services in Glen Mills, look no further than Busy Bee Cleaning Company.
Why Glen Mills Loves Busy Bee Cleaning Company
When it comes to Glen Mills, PA house cleaning services, there is no better option than Busy Bee Cleaning Company. Still, we know that telling you only goes so far, so here are some of the reasons why Glen Mills residents just cannot get enough of our amazing house cleaning services.
Highly Trained and Passionate House Cleaners
A cleaning service is only as good as its cleaners, which is why we have invested so much to ensure that our professional house cleaning specialists are the best in the business.
Every single Busy Bee house cleaner goes through our extensive training program called Busy Bee University, where they go through hours of in-class and on-site training. During this training course, our home cleaners learn the ins and outs of using all the best cleaning products and equipment, as well as essential cleaning techniques that allow them to provide a superior level of service that leaves every home spotless.
But our cleaning specialists do not stop learning when they graduate from Busy Bee University. In fact, we are constantly keeping every member of our team up to date on the latest cleaning trends and techniques so that we can continue providing our clients with the best cleaning service on the market.
Quick and Efficient Cleaning Services
Our amazing training program does not just ensure that our team of cleaning professionals is the best in the business. It also allows us to ensure that we can provide our high-quality service as quickly and efficiently as possible, saving you time and money in the process. No matter what, you can trust that we will do an amazing job and clean your home in a timely manner every time.
Flexible Scheduling and Reliable Service
The whole point of hiring a professional cleaning service is convenience. You want the convenience of being able to trust that your home will be cleaned exactly when you want it to be, and our flexible schedule ensures exactly that.
We also take great pride in being incredibly reliable so that you can rest assured knowing that once you pick your preferred day and time, we will show up and do a great job cleaning your home no matter what.
Eco-Friendly Cleaning Products
Here at Busy Bee Cleaning Company, we strive to do our part to protect your home and the environment around it. Many of the most popular cleaning products contain harmful chemicals that can pollute groundwater and cause harm to your family and local wildlife, so we promise to use only the most eco-friendly cleaning products on the market.
Fine-Tuned to Meet the Needs of Every Customer
Every home is different, and every customer has different cleaning needs. We address this by spending the time to get to know you and your home so that we can fine-tune our services for each specific situation. No matter what your cleaning needs and preferences are, we will find a way to exceed your expectations every time.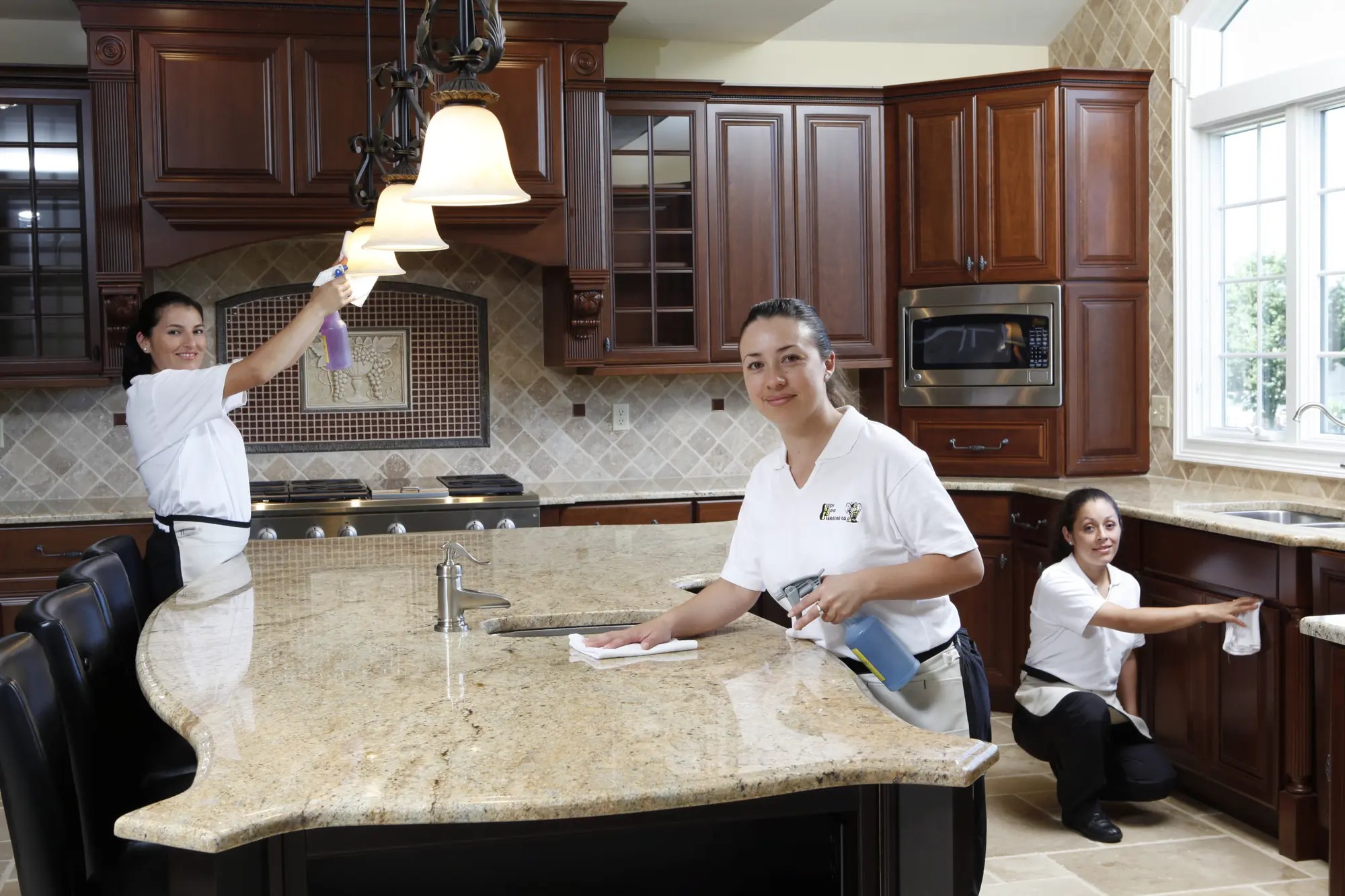 Our Professional Home Cleaning Services
We offer a full range of home cleaning services that make us Glen Mills' one-stop shop for everything from regular old house cleaning to more specialized services like carpet cleaning, furniture conditioning, and more. No matter what cleaning services you are looking for, chances are that we can help.
Routine House Cleaning Services
By far our most popular offering, our routine house cleaning services make it easy for customers all over Chester County to keep their homes clean on a regular basis. We will work with you to schedule a day and time, either weekly or bi-weekly, when our team of professional cleaners can come and clean your home.
Our routine cleaning services typically include cleaning tasks like:
Cleaning and sanitizing stove tops, countertops, sinks, showers, bathtubs, toilets, and floors
Cleaning cabinet doors and mirrors
Dusting furniture, light fixtures, blinds, baseboards, window sills, ceiling fans (height restrictions may apply), and all other accessible surfaces
Removing cobwebs
Cleaning microwaves and other appliance exteriors and surfaces
Cleaning underneath and behind microwaves and other small appliances
Mopping and vacuuming floors
Emptying all trash cans
Deep Cleaning Services
For clients who have not had their homes cleaned in a while or simply want a superior level of cleanliness, we offer a variety of deep cleaning services. These cleaning tasks are generally much more labor intensive and require more time and special equipment to carry out.
Our deep cleaning services typically include cleaning tasks like:
Washing baseboards, doors, and other woodwork
Cleaning small light fixtures
Polishing granite countertops
Interior refrigerator cleaning
Oven cleaning
Carpet cleaning
Cleaning kitchen cabinet interiors and exteriors
Vacuuming drapes and lampshades
Cleaning and conditioning furniture
Window washing
Contact Busy Bee Cleaning Company Today for your PA House Cleaning Services!
Are you interested in hiring professional cleaners to clean your home? Then give us a call. We are always here to answer your questions and are happy to offer all new customers free estimates and consultations so that you know exactly what we can do for you and how much it will cost. Do not let yourself be content with an untidy home. Call Busy Bee Cleaning Company today!