There is nothing like coming back to a clean home after a long day at work, but with busy schedules and limited free time, it can be hard to find the time and energy needed to keep your home as clean as you would like it to be.
Even if you have trouble keeping your home clean by yourself, you do not have to be content with an untidy home because Busy Bee Cleaning Company is here to help. Offering professional residential and commercial cleaning services to clients both in and around West Chester, PA, Busy Bee Cleaning Company is who Chester County home and business owners trust to keep their spaces clean and tidy.
From routine home cleaning services that help homeowners stay on top of their household chores to deep cleaning services that ensure every inch of a home or commercial space is completely spotless, Busy Bee Cleaning Company provides reliable cleaning solutions to meet the specific cleaning needs of each of our customers.
Our goal is always complete customer satisfaction, and we take pride in providing exceptional service and doing an amazing job every time. So if you are looking for a cleaning service that you can rely on to get the job done right, look no further than Busy Bee Cleaning Company.
Why Busy Bee Cleaning Company is Paoli, PA's Favorite House Cleaning Service
When it comes to top house cleaning services in Paoli, PA, there is no better option than Busy Bee Cleaning Company, and with over 30 years in the industry and countless satisfied customers all over the Philadelphia and Chester County area, there is no shortage of reasons to choose us. 
However, if you are still not convinced, here are just a few of the many reasons why Busy Bee Cleaning Company is the most trusted Paoli house cleaning service.
Why Choose Busy Bee House Cleaning Services
We have been providing commercial and residential cleaning services in West Chester and the surrounding Chester County for over 30 years, and while there are other house cleaning companies out there, none of them can compete with our superior level of cleaning and excellent customer service.
But, if that is not enough for you and you still are not quite convinced, here are a few more reasons why Busy Bee Cleaning Company is Chester County's favorite cleaning service. 
Highly Trained and Hardworking Professional House Cleaners
Busy Bee Cleaning Company is made up of a team of reliable and experienced cleaners who are highly trained and have the skills and knowledge to provide professional cleaning services that other companies and cleaners just cannot compete with.
Our professional cleaners are the best in the business, and they are guaranteed to do an amazing job cleaning your home, so no matter how big or dirty your home is, you can trust that Busy Bee's amazing cleaners will get your home properly cleaned in no time.
We take pride in our reliability. When we tell you we are coming to clean, you know that we will be there on time every time so that you never have to worry about us canceling on you at the last minute.
We are also very flexible with our scheduling and will work with you to find a date and time that is most convenient. We do not want to get in your way as much as you do not want us to be in it, and with our flexible schedule, we will never have to be.
Modern Cleaning Equipment and the Latest Techniques
Even the best cleaners cannot do a good job if they are not well-equipped with the right techniques and equipment, which is why we make sure our cleaners have nothing but the best. Our cleaners stay up to date on all of the latest cleaning techniques and have access to modern industry-standard cleaning supplies and equipment that allows them to clean better and faster than they otherwise would.
Eco-Friendly Cleaning Products
Many cleaning products contain harmful chemicals that can pollute water and damage the environment. We know firsthand just how bad these chemicals are, so we do our part to keep them out of your home and the environment around it by using only the most eco-friendly cleaning products.
Fine Tuned to Meet Your Specific Cleaning Needs
Here at Busy Bee Cleaning Company, we know that every home is different and every client has different cleaning needs, which is why we do our best to foster good client relationships that foster clear and open communication.
This allows us to get to know you and your home better so that we can fine-tune our services to meet your exact needs. From standard routine cleaning to other services like carpet and window cleaning, we will make sure that we custom-fit our services to you.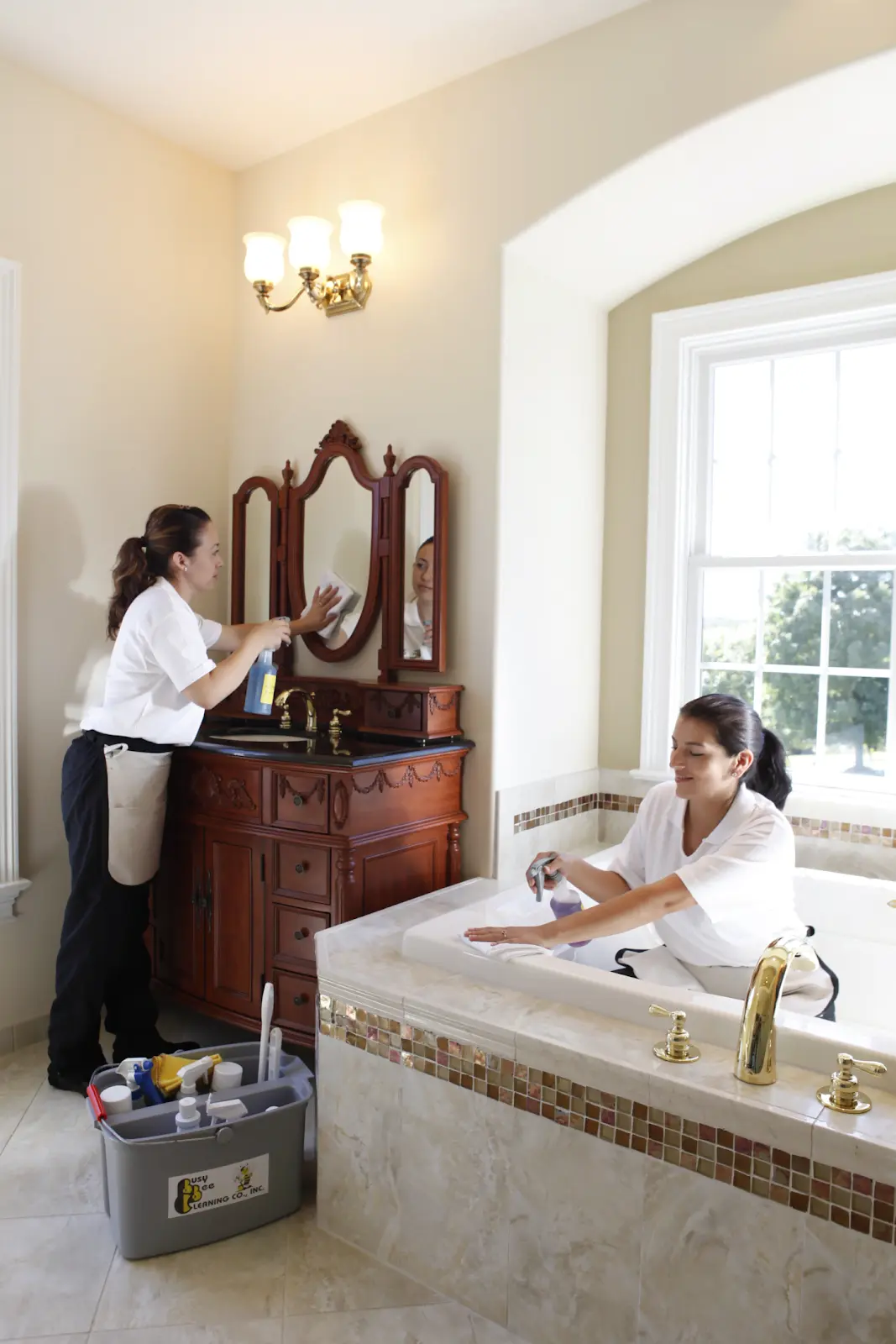 Our Professional Cleaning Services
We offer a full range of house cleaning services that allow us to be West Chester's one-stop shop for all your cleaning needs. Here are our most popular services.
Routine House Cleaning Service
Our routine house cleaning services are designed to be a convenient and easy way to keep your entire house clean all year round. Our flexible schedule allows you to choose the exact day and time that is best for you as well as if you would like us to come weekly or bi-weekly.
Our routine cleaning services typically include things like emptying all trash cans, dusting, wiping, and disinfecting all accessible surfaces, and mopping and vacuuming all the floors so that every room in your home is clean and tidy.
Deep Cleaning Service
Our deep cleaning services are for customers who have cleaning needs beyond normal routine cleaning tasks. Whether your home has not been cleaned in a while and needs an initial cleaning, or you are moving to a new apartment and need to conduct a thorough move-out cleaning, our deep cleaning services have you covered.

Our deep cleaning services usually cover more labor-intensive and time-consuming cleaning tasks like polishing granite, vacuuming drapes and lampshades, window cleaning, carpet cleaning, washing baseboards and other woodwork, and cleaning light fixtures, windows, and furniture, as well as the interiors of kitchen cabinets and appliances like refrigerators, ovens, and microwaves.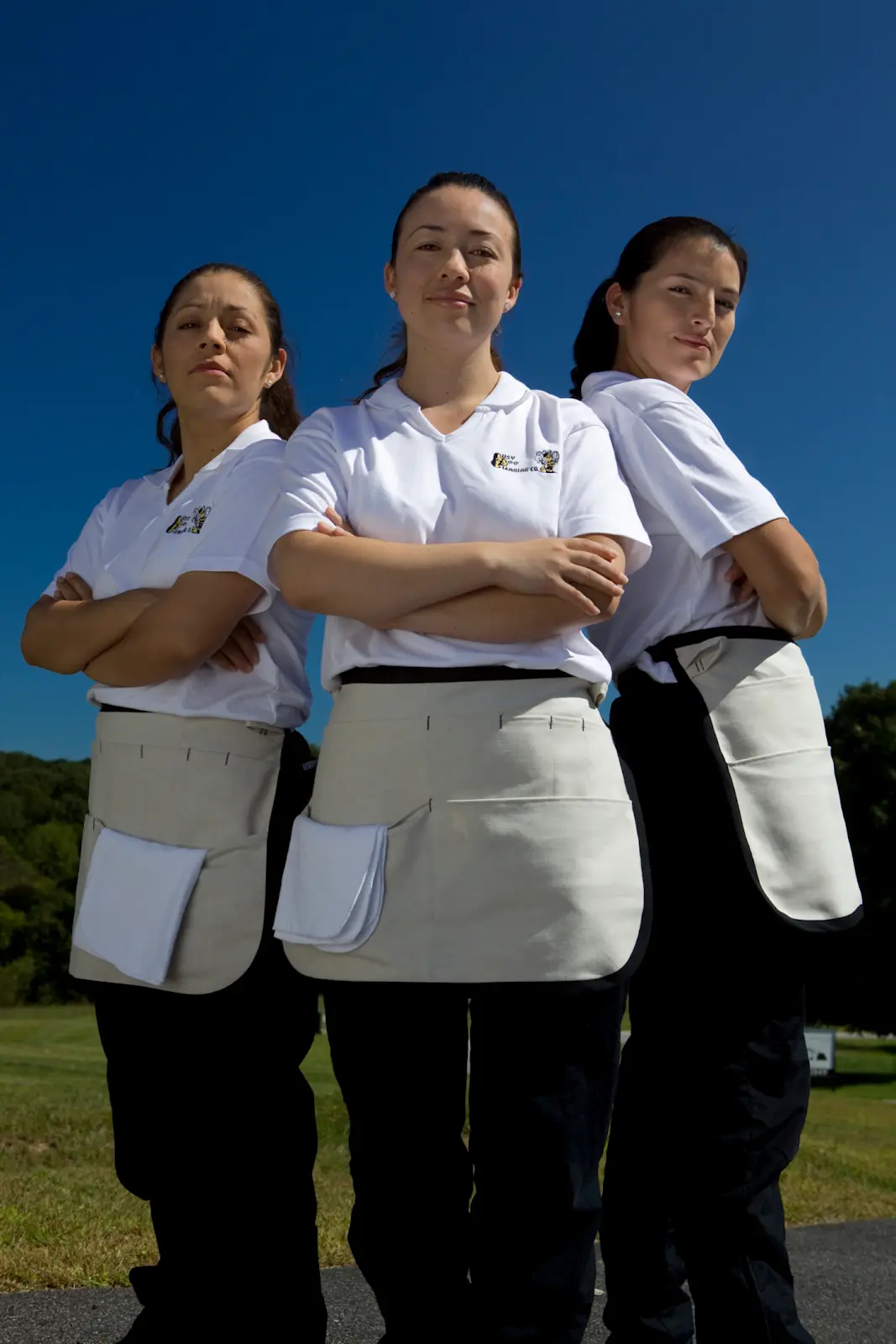 Contact Busy Bee Cleaning Company Today!
Are you looking for professional cleaning services in Chester County? Call Busy Bee Cleaning Company, and we will offer you a free estimate for the cleaning costs of your home. You do not have to be content with a messy home. Call Busy Bee Cleaning Company today!