Across the country, many Americans are starting to plan their holiday festivities. From selecting the right seasonal decor to crafting the almighty dinner menu, it is not uncommon for people to spend weeks planning the perfect holiday shindig. But even with planning, many people forget to account for one of the most important things—cleaning their homes before the holidays.
With the end of the year being such a busy time, many people will find that they won't have enough time to give their homes a deep cleaning before their holiday guests arrive. Hiring a professional maid service in Downingtown, PA, for a one-time thorough cleaning can take some of the stress away from preparing your home for the holidays. Check out the ways Busy Bee Cleaning Company's deep cleaning services can make your holiday season a little brighter.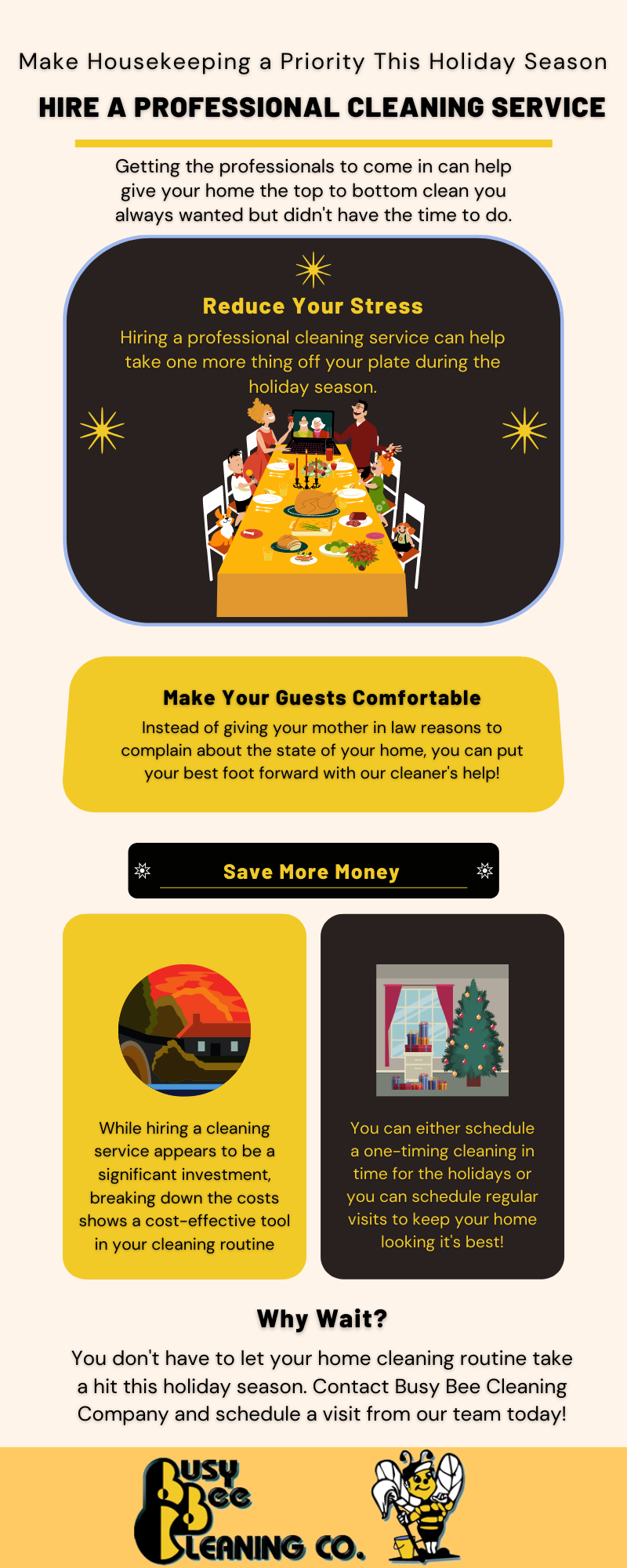 Save You Time
The biggest drain on your mental health during the holidays comes from feeling that you don't have enough time in your day to do everything you have planned. From preparing dinner, yard work, holiday shopping, keeping your kids and household running smoothly, finding the time to thoroughly clean your home can fall by the wayside. 
With the help of a professional cleaning service, you don't have to worry about carving out large chunks of time and energy to clean. You can have the cleaners come to your home on your own time; they handle all of the cleaning and supplies and tidy up your space after they finish. You can focus on the other items on your to-do list and get the professional level of cleanliness that will impress your guests. 
As we mentioned before, many people already have so much on their plates when it comes to holiday planning that cleaning their homes usually becomes another stressful and time-consuming task. A professional holiday housekeeping deep cleaning can help you regain the valuable time and energy you'll need to be the best holiday host.
Creates Comfortable Space for Guests
If you plan on hosting family and friends this holiday season, then it may be time to give your guest bedrooms a little T.L.C. (tender loving care). While adding some new decor is a great way to breathe life into your guest bedrooms, a thorough cleaning can help you rid your entire home of harmful bacteria, mold, and allergens that can make your guests feel uncomfortable during their stay.
Saves Money
One of the biggest misconceptions about hiring a professional cleaning service is that it will bust your holiday budget, but this is simply not true. The beauty of working with a professional cleaning service like Busy Bee Cleaning Company is that you don't have to sign up for routine cleaning services if you don't need to. We offer one-time cleaning services that are perfect for homeowners who need a little help keeping their homes clean during the busy times of the year like Thanksgiving, Christmas, and New Year's.
Professional one-time home cleanings are not just great for the holidays. They also serve as a great way to get your home back on track once the holidays are all said and done. Those interested in more information on professional house cleaning services near Glen Mills, PA, can contact Busy Bee Cleaning Company today.