What is the ISSA Show?
Once a year, the ISSA Show North America brings the entire professional cleaning industry together for a week of learning and business networking. The event allows professionals in the industry to discover new ways to improve their business's efficiency, skills, and profitability. Those who attend the show are able to learn from industry experts, make valuable connections and experience the latest industry innovations all under one roof. This year's show will be held October 29th – November 1st in Dallas, TX.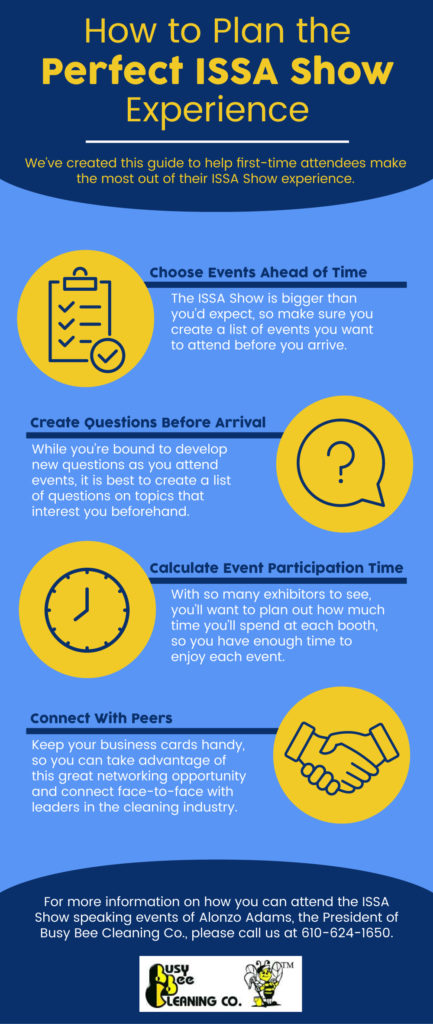 Who Attends?
Last year's ISSA Show brought together over 16,600 industry leaders from 76 countries around the world. Whether you're a facility cleaning professional or you own a house cleaning service in Berwyn, PA, the ISSA Show is one event you don't want to miss.
Past show attendees have included:
Business Owners

Corporate/general management

Distributors

Manufacturers

Residential Cleaners

Sales management personnel

And many more!
Who Exhibits?
The ISSA Show features over 700 exhibitors from 24 countries that showcase their most recent facility solutions. From live demonstrations to leadership training sessions, the ISSA Show offers a wide variety of seminars and workshops that are perfect for helping any cleaning professional hone their skills and boost their bottom line.
The President of the Busy Bee Cleaning Company Alonzo Adams will be speaking at two events during this year's ISSA Show. Mr. Adams will bring his years of industry success and experience to each event to help inspire and educate attendees. On Monday, October 29th, Mr. Adams will be co-hosting a lunch and learn event that aims to help business owners develop new business strategies that are adaptive to the ever-changing economy and industry. Business owners can attend Mr. Adams's second seminar on Wednesday, October 31st to find help unlocking their business's full potential.
Alonzo Adams 2018 ISSA Show Speaking Engagement Schedule:
Lunch and Learn: State of the Industry Panel sponsored by Essendant

Monday, October 29, 2018 11:45 am – 1:00 pm

Think Big and Unlock Your Business' Potential sponsored by Cleaning Business Today

Wednesday, October 31, 2018, 10:15 am- 11:15 am
For more information on this year's ISSA Show or to request our house cleaning services in Newtown Square, PA, call us at 610-624-1650.